This is the second installment in the series Letters from the Road by Roland Boer.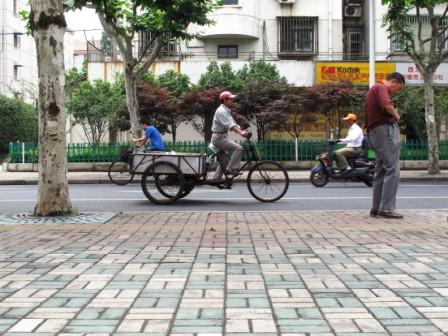 Christianity in China: a story of early engagements, Nestorians in the seventh century, Roman Catholics in the sixteenth, Reformed Protestants with American haircuts and accents in the twentieth. Add to that the differences between the official and 'underground' churches (that is, not recognised by the state but known to everyone) and the picture is complete … Or is it?
Communism in China: a story that moves from its fledgling beginnings in the early years of last century to a mass movement and victorious revolution 62 years ago. It has always been suspicious of religion, preferring to manage religious diversity rather than see any connections with communism … Or has it?
A new collection of writings is set to change drastically both stories. Entitled Chinese Christian Socialism (1912-1950): Selected Sources (see below for the table of contents), this collection gathers material from 1912 until the moment of the revolution itself. They are written by a number of Christian theologians who engage creatively with communism in a way that predates much that was written elsewhere. In other words, these writings, especially the early pieces, are a distinctly Chinese phenomenon. Later they begin to engage with international currents, such as the social gospel, but it cannot be emphasised enough that these are original efforts at developing a Chinese Christian communism.
Is this an accommodation to a status quo they could see coming? Not at all, since the date at which these writings begin is crucial. 1912 is before the first successful communist revolution, the Russian Revolution of 1917. It is before the shake-ups of the 1960s that produced the varieties of liberation theologies (Latin American, Black, Feminist, Queer etc), before the Marxist-Christian dialogue of the 1970s. Yet these works anticipate many of these developments. One might suspect that they were under the influence of Rosa Luxemburg's Socialism and the Churches (1905) or Karl Kautsky's Foundations of Christianity (1908), but these works were not to be available in China until decades later. Further, these works were written by Marxists who did not participate in the life of the churches. By contrast, the authors of the works of Chinese Christian communism were deeply involved with the churches. Indeed, Christian communism was not merely a theoretical development at the time, for on a practical level local Christian ministers and parishioners helped Mao's liberation army on the famous Long March with food, shelter and moral support.
The way these works came to light is a story unto itself. Chin Kenpa, from Taiwan, had heard about one or two of them, but then found them almost impossible to find. They were, it seemed, neither convenient for the communist party once in power nor for the churches in realigning themselves in relation to the new government. So he dug around in dusty archives on the mainland, neglected shelves of libraries, a personal collection or two from an ancient colleague. The result was far more than he expected and with much excitement he told me about them.
Later this year, Chin will publish a selection in one of the Sino-Christian Studies book series, which he edits (along with the journal of the same name). The collection will appear first in Chinese, but we have already lined up a translator for an English version. It is not often that you get a chance to rewrite history.
Chinese Christian Socialism (1912-1950): Selected Sources
Edited by Chin Kenpa
Introduction
J. Wesley Shen, 'Socialism in the Bible,' in The New History of Socialism.
J. Wesley Shen, 'Christian Socialism,' in The New History of Socialism.
J. Wesley Shen, 'Jesus and Revolution,' in Christian Literature Monthly
J. Wesley Shen, 'Christianity and Communism,' in Silent Source Monthly
Hottinger S. C. Chang, On Jesusism.
Hottinger S. C. Chang, Christianity and the Socialist Movement.
D. G. Cheu, 'Jesus the Socialist,' in The New Christian Literature Monthly.
Wu Leichuan, Social Ideals of Jesus.
Wu Leichuan, 'The Thought of Jesus,' in Motze and Jesus.
Y. T. Wu, 'Christianity and Materialism,' in Light and Darkness.
Y. T. Wu, 'Does Jesus hate?' in Light and Darkness.
Y. T. Wu, 'Social Gospel,' in The Social Gospel.
Kiang Wenhan, 'Christianity and Marx-Leninism,' in Christianity and Marx-Leninism.
N. Z. Zia, The Gospel for the Oppressed.
Wang Zhixin, Jesusism and Su Yetsin-ism.
Zen, 'What is Christianity?' in The New Idea of Religion.
Roland Boer is at the moment visiting professor at the Centre for the Study of Marxism Abroad, at Fudan University, Shanghai. His usual occupion is as research professor at the University of Newcastle, Australia – that is, when he is not voyaging by container ship or on long-haul bicycle tours. Among numerous publications, the most recent is Criticism of Theology: On Marxism and Theology III (2011).