In response to the slaughter of the innocents in Connecticut last week, President Obama quoted Paul's second letter to the church in Corinth (2 Cor 4:16-5:1).
So we do not lose heart. Even though our outer nature is wasting away, our inner nature is being renewed day by day. For this slight momentary affliction is preparing us for an eternal weight of glory beyond all measure, because we look not at what can be seen but at what cannot be seen; for what can be seen is temporary, but what cannot be seen is eternal. For we know that if the earthly tent we live in is destroyed, we have a building from God, a house not made with hands, eternal in the heavens (NRSV).
It is one of my favorite passages of scripture, from one of my favorite authors of scripture. I read this passage all the time at funerals. But what occurred to me in this context is that I read it at the funerals of people who have lived their long lives and are ready to shake off this earthly tent and replace it with their heavenly dwelling.
I never want to have to read it at the funerals of children.  Whether they die in car accidents, or from cancer, or gun violence, or fires, or floods, or war, or famine, I don't ever want to have to read this for children.
Because I realize that I want to take their "earthly tents" and cover them in titanium, wrap them in bubble wrap, and coat them in Kevlar. I want to keep my children, your children, and every child safe.
BUT I CAN'T.
I cannot guarantee that some person won't decide to walk into a school, movie theater, mall, or my home with an assault rifle and open fire.
I cannot guarantee that car accidents won't happen.
I cannot guarantee that cancer won't strike.
I cannot guarantee that fires, floods, and quakes won't catch people unaware.
And I hate that.
But it is life. We know that. We know that. Life is beautiful and fragile.
There is a scene at the beginning of the movie Finding Nemo, where a mama fish dies while trying to save her baby fish eggs from a barracuda. The daddy fish, Marlin, finds one egg that escaped the destruction and he tells the egg, "don't worry. Daddy's here. I will never let anything happen to you."
And so Nemo is born to a well meaning and over protective father. Here is the scene where some gnarly turtles help Marlin realize he can't keep his son safe and allow him to live at the same time.
And I think this is the tension with which we live every day. Events like Newtown bring it in to sharper focus, perhaps, but it is there every day.
The President spoke of this as well:
With their very first cry, this most precious, vital part of ourselves, our child, is suddenly exposed to the world, to possible mishap or malice, and every parent knows there's nothing we will not do to shield our children from harm. And yet we also know that with that child's very first step and each step after that, they are separating from us, that we won't — that we can't always be there for them.
My 17-year-old son has a driver's license now. And he is a good driver. But I confess that every time he leaves the house to drive somewhere, a part of me has an anxiety attack. "Are you sure you really want to go play soccer with your friends?" I ask. "Wouldn't you rather just stay home with your mother?"
On my good days, I don't ask that question out loud.  But it is always in my head, even as I know that life is to be lived and that soccer is what gives the boy joy.
Do we go out and live our lives, actively seeking the joy, and beauty, and experience that is there for us, even as we remember that we live in flimsy earthly tents?
Or do we decide to pretend that perfect safety is within our earthly grasp, and is worth more than the experience of life?
This isn't to say that we shouldn't do what we can to be safe. As my friend John Williams says, "God gave us brains and expects us to use them."  Seatbelts matter. Airbags save lives. Federal Worker Safety rules are important. Access to healthcare matters. Tsunami warnings should be heeded. Gun safety and control matter.
But once we've done what we can to make our world safer, we have to remember Paul's words to the church in Corinth–even for children.
Paul goes on to write, a few verses later, "So we are always confident. Even though we know that while we are at home in the body, we are away from the Lord. For we walk by faith, and not by sight." (2 Cor 5:6-7)
So I pray this tragedy in Connecticut, these tragedies we see each day around us, will remind us to be people who walk by faith. I pray it will cause us to seriously discern how we can respond in ways that will create safety and not just be reactionary.
I am thankful my kids have recognized this is a time when they need to let their mother hug them more than is normally acceptable.  I am thankful for the reminder of the gift of life, even in flimsy earthly tents.
I pray for all who grieve. And I seek comfort in the words of Paul.
For this slight momentary affliction is preparing us for an eternal weight of glory beyond all measure, because we look not at what can be seen, but at what cannot be seen; for what can be seen is temporary, but what cannot be seen is eternal.
May we enjoy this "temporary" life we can see. May we seek joy in these flimsy "earthly tents". And may we trust that the God who created us is holding us securely in a Divine embrace while we walk in faith, play soccer in faith, and even sometimes leap for joy in faith.
***********************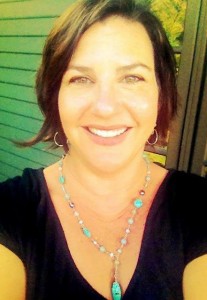 Marci Auld Glass is the pastor of Southminster Presbyterian Church and lives with her husband and sons in Boise, Idaho. She is a graduate of Trinity University and Columbia Theological Seminary. When she's not herding cats or driving soccer carpools, Marci plays the cello, runs (albeit slowly) on trails near her home, and tries to leave room in her life for grace to break through. She blogs at Glass Overflowing.