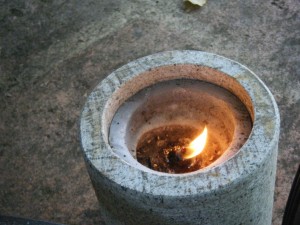 Somewhere on a remote rural road in far northeast Pennsylvania, a tire company makes a statement.  In tires.  I drove that road for many months, wondering if I was seeing more than a collection of tires on an entrance embankment.  Eventually, I got the message.  In letters and numbers 20 feet tall and half a football field long, the intentionally-strewn tires spelled out:  2 Chronicles 7:14.  That is Bible insider shorthand for:  "If my people, who are called by my name, will humble themselves and pray and seek my face and turn from their wicked ways, then I will hear from heaven, and I will forgive their sin and will heal their land."
That particular scripture is the message that Pastor Greg Laurie says he will bring to today's National Day of Prayer event at the Pentagon where he is the headline speaker. Laurie is Senior Pastor at Harvest Fellowship in California.
Today, in Washington D.C., Pastor Laurie will pray:  "Lord, we need Your help in America. In recent days, we have done our best to remove Your Word and Your counsel from our courtrooms, classrooms, and culture."
A couple of hills beyond the tire scripture statement, less than a decade ago, a school was trying to make sure that God was not removed from their school's premises.  Teachers invited students' "prayer requests" before the "silent prayer" time in the morning.  A highlight of the school year was in December when the entire school — teachers, students, and administrators — gathered around the flagpole to hold hands and sing sacred Christmas carols and "have a prayer."  And once a week before the end of the school day, students could (legally) leave their academic classrooms to attend Child Evangelism Fellowship (CEF) classes which were located (not legally) in the school building.
The fear seemed to be that God had already been "taken out" of school in too many ways. No longer could the principal lead the school in morning prayer.  No longer could students read to the class from the Bible. No longer could teachers preach Jesus or teach The Lord's Prayer as values-based curriculum.  However, CEF could — and did — continue its (legal according to Pennsylvania law) "release time" Christian education program during school hours, located (not legally) on school property.
In those hills were plenty of churches.  In each of those churches, the Bible was read aloud, prayers were prayed, the Lord's Prayer was taught, and Jesus was preached.  The people who loudly lamented the so-called absence of God in school, were many of the same people who were not seen regularly attending any local church where they might have an encounter with God among church people.
The National Day of Prayer is observed today in the United States of America because, in 1952, President Harry S. Truman signed the bill that made it a yearly event, and this year President Barack Obama's declaration set May 2 as the date.  There will be prayers and hymns on the courthouse steps in that Pennsylvania county today. In a Texas county, there will be a worship service in a school.   At the Pentagon, invited by the Department of Defense, Pastor Laurie will be speaking and praying.
The Task Force for National Day of Prayer is all white, all Christian.  The event does not represent, nor does it invite, the diversity of people and groups in United States faith communities today.  It is unlikely that any of the leadership team or Washington D.C. speakers come from mainline Protestant denominations, Roman Catholicism, or even denominational Baptists.
Yet, these Day of Prayer-type Christians are the radio Christians, the news show guest Christians, the quoted Christians.
They are people like Pastor Laurie, who taunts:  "Anyone who says they found a way biblically to justify a homosexual relationship is simply ignoring what the Scripture plainly teaches."
Pastor Laurie will pray the prayer he promised:  "Lord, we need Your help in America. In recent days, we have done our best to remove Your Word and Your counsel from our courtrooms, classrooms, and culture."  And, today, on the National Day of Prayer, people will be convinced that — when church and state embrace in government-sponsored religious events — they will have had some hand in God being "put back" in those places that all too often have seemed God forsaken.
Meanwhile, all over the country, many faithful will keep on gathering to pray, without permission or encouragement from our president. They will not rely on the support of schools or courthouse steps or protective laws.  The faithful will gather — more than once a year, and often more than once a week — to pray, yes, and also to learn, and to worship, and to grow in wisdom and spirituality. Together. Week after week. Month after month. Year after year.  In our Christian tradition, we call that "church."
And then, inspired by the Holy Other, each faithful one — those of  our country's every faith, and those of no stated religion — will go back out into "our courtrooms, classrooms, and culture."  As best we can, we will keep the law of love, we will share the compassion and forgiveness we have experienced, and — with God's help — we will turn prayer into actions of justice and peace.
Do your best — or your worst — to keep God out of "our courtrooms, classrooms, and culture."  Easter's Good News is that God is neither dead nor absent nor banished.  God is already way ahead of us.
***********************************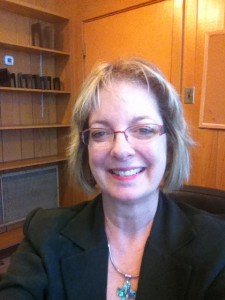 Sharon M. Temple is a United Church of Christ pastor currently serving as an interim pastor in New Orleans, Louisiana.  She enjoys traveling to all kinds of places, most especially when the destination is a visit with her three adult children, her son-in-law, and her toddler grandchild.
Sharon is active in the RevGalBlogPals web-ring, serving as a host of the 11th Hour Preacher Party.  She blogs from time to time at Tidings of Comfort and Joy.