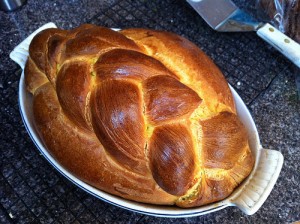 I used to be Jon Stewart's guy. I was one of those "young people" who didn't read mainstream news sites, much less newspapers, and happily cherished the postmodern irony of getting my news from the "fake news" of the Daily Show. Streamed off the internet, even. (Take that, "old" media!)
Then this past spring I reached my saturation point. My wife and I were both in our final semesters of grad school, and I was teaching adjunct at a nearby college, when I started to notice that I wasn't laughing as much while watching the Daily Show. Although comedic, it struck me that the show was parasitic on the symbiotic circus of American politics and 24-hour cable news, and therefore, substantively no different. Rather than partisan moral outrage, though, I was left feeling only cynical and agitated. And in a social media world, my first impulse was to rush to Facebook, drop a link to the video segment in question, and make some snide remarks about the sad state of affairs in American politics. It was stress I didn't need.
So I stopped paying attention. Now after graduation and in the heightened flurry of party conventions and heated campaigns, I'm still not paying attention and it's been a liberatory experience. And this November, I will almost certainly not vote. In the remainder of this post I hope to show why such tactical abstinence from American politics and news media is not necessarily irresponsible, but can be seen as righteously "therapeutic" (in a Wittgenstinian sense) or as residing in what Mennonite writer, Tim Huber, has recently called a "holy silence." I will do so by meditating on the word "election" in light of two different traditions. First, in the context of American politics, and then in the biblical/covenantal sense.
The choice of a new generation
The word "election" in American society has come to function commonly as a noun, i.e. the election, and is understood in an entirely liberal-democratic sense. As a verb, election is understood as free, sovereign choice in the political process. Such choice is seen as residing squarely in the individual-as-citizen. This "many constitute the one" scheme can be seen in the ominous frontispiece of Hobbes' Leviathan, with the torso and arms of the namesake being comprised of hundreds of individual figures, facing away from the viewer, into the body of Leviathan. If this is read teleologically, election's end is the nation-as-state, a view that holds to this day.
By contrast, the Christian tradition understands election – and related concepts of sovereignty and nation – in a completely different way. Election in the Old Testament describes God's sovereign choice of a particular people, Israel, through a particular person, Abram/Abraham (and Sarai/Sarah). To Abraham, God promises, "I will make of you a great nation, and I will bless you, and make your name great, so that you will be a blessing. I will bless those who bless you, and the one who curses you I will curse; and in you all the families of the earth shall be blessed" (Gen. 12:2-3).
Lest "nation" and "election" be read imperialistically here, it's worth noting a few points. First, consider the narrative arc of Israelite political formation, deformation, and dissolution; from familial tribe to tribal federation to Temple monarchy to synagogue diaspora. John Howard Yoder has noted the anti-state dimensions of Old Testament narrative, such as Samuel's lament of Israel's desire to be like other nations in having a king. God's response is "they have rejected me from being king over them" (1 Sam. 8:7, emphasis added). In the crumbling of monarchy a few hundred years later, Yoder spots a "Jeremianic turn," or the seeds of what would become the church, in God's message through the prophet to Jews in Bablyon, that they "seek the shalom of the city where I have sent you into exile…for in its shalom you will find your shalom" (Jer. 29:7). Taken forward into New Testament narrative, the early church is similarly scattered yet called into the one body of Christ. This tension is evident in Peter's first letter, addressing his hearers (then and now, as Yoder and Hauerwas would have it) as both "aliens and exiles" (2:11) and "a chosen race, a royal priesthood, a holy nation, God's own people" (2:9), here appropriating his own Abrahamic tradition.
This is a good point for the second note, on election. Lesslie Newbigin has cautioned against understandings of being "God's own people" that result in attitudes of pride and privilege. Pride being a great sin, often traditionally depicted as the root of the tree of vice. Newbigin's emphasis is on the virtue of humility with respect to election. In The Open Secret, Newbigin urges "(a)gain and again it has to be said that election is for responsibility, not privilege" (32). Election in the "royal priesthood," therefore turns worldly understandings of power and privilege on their head. As Jesus impressed upon his disciples, "the rulers of the Gentiles lord it over them, and their great ones are tyrants over them. It will not be so among you; but whoever wishes to be great among you must be your servant, and whoever wishes to be first among you must be your slave; just as the Son of Man came not to be served but to serve, and to give his life a ransom for many" (Mt. 20:25-28). Here, the telos of election entails imitatio Christi in the missio Dei, God's reconciling of all things in and through Christ.
Conclusion: Whose body?
By contrasting "election" in two different, competing traditions – one ancient, one modern – I hope to remind American Christians mired in American politics whose we are and what we are for, and where our collective life as church is pointed toward. And quite frankly, it's not toward the state or market. It's plain to see in this season on the American calendar that the virtue of Christian humility has no place in American politics and news media. As political campaigning becomes an endless cycle, into which is invested inordinate amounts of money and is increasingly beholden to profit-driven media, one cannot simply "keep informed" by participation in such a system. Such a detached, instrumentalist will not do.  By consuming, one is thereby consumed – the many are drawn into a new Leviathan.
In Being Consumed: Economics and Christian Desire, William Cavanaugh describes the Eucharist as an act of "anticonsumption" (84), whereby "(t)he individual consumer of the Eucharist does not simply take Christ into herself, but is taken up into Christ… The act of consumption is thereby turned inside out: instead of simply consuming the body of Christ, we are consumed by it" (54).
So in both cases, we are taken up into something greater than ourselves. But "great" in which sense? Whose body are we elect(ed/ing) to be taken into? Whose body will have the primary formative influence on the Christian social imagination in the United States?
While I have some reservations which I'll let others address, I do see tactical promise in the Election Day Communion movement, something dreamed up by a few Mennonite pastors. In the hands of a careful, discerning congregation, this could be a great way to break into the high point of secular American liturgy, election day, reminding us that "real power in this world — the power to save, to transform, to change — ultimately rests not in political parties or presidents or protests but in the life, the death, and the resurrection of Jesus," and that "God's strength is made perfect in weakness."
May it be so.