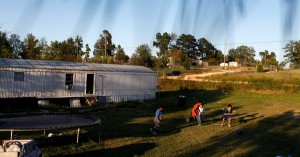 By Matt Lacey
Exodus 23:9: You shall not oppress a resident alien; you know the heart of an alien, for you were aliens in the land of Egypt.
If we are not to be "of the world", how do we live "in the world"?  This is a question I'm sure many of us have wrestled with time and time again, if we have seriously thought about how to live out our faith in the world.
Alabama's new immigration law is called "the toughest in the country" by proponents and opponents alike ; and after looking at the law myself, undoubtedly it is.  It calls for employers to verify the immigration status of potential employees, schools to check on the immigration status of children enrolling, allows law enforcement agencies to inquire about the immigration status of individuals without warrant (only suspicion), and makes it illegal for citizens to give car-rides to illegal immigrants.
Before I go any further, let me say this: as Christians we are called to rise above the typical political and vitriolic debate and prayerfully seek to find our place as faithful individuals living in the United States.  Many who support this law are well-meaning, faithful individuals who are seeking to find the state's best interest at heart: they are small business owners who are worried about employment in this fragile economy, school administrators who are trying to keep costs down, and others.
After looking at this law, keeping it in my prayers and discussing it with others, I must confess that this law does not maintain our values as a Christian community, much less as United Methodists.
After the passage of this law, we are presented with this strange irony: many in America want to draw attention forcefully to many well-meaning individuals seeking oppression from drug-related violence, and lack of work–yet we in America, in our origins, are immigrants seeking refuge from oppression as well.  Their story is our story.
We are presented with the question: are we called to be Americans first, or Christians first?  Are we called to claim our heritage as our coincidental place of birth, or our Christian heritage that transcends political and continental borders?
Our Judeo-Christian experience reminds us that we know what it is like to be immigrants: foreigners in another land looking for freedom from oppression in Egypt, and faithful people which are in this world, but not of this world.
Can we really vilify other persons who are products of their own coincidental place of birth who are victims of little work, little resources to care for their own families, and constant violence?  If we profess Christ, we share in that heritage–this is our story as well, because we are one in Christ (Galatians 3:28).
I, for one, will break this law as it stands, and urge others to do the same.  I will continue to greet, share with, and (yes) even give rides to those who I know are in this country illegally.  Why? We are called to remember the Good Samaritan, who was an immigrant to society but still helped his neighbor in need.  Christ calls us to place truth with power, even if that means looking to those in power, like those who tried to break Christ's will with the use of the law, and with the witness of Christ, telling them we will not be part of their plans.  I will also love my sisters and brothers who accept and agree with this law, as I know they are seeking to be faithful members in our Christian family, as we seek to find our place in this world as Christians. My own Christian convictions force me to speak out against this law and any law which welcomes the potential persecution of another human being.
Rev. Matt Lacey is Director of Mission and Advocacy for the North Alabama Conference of the United Methodist Church, and senior pastor at Woodlawn UMC in Birmingham, AL.  Matt received a Masters of Divinity in May of 2008 from Candler School of Theology at Emory University.  During his time in college and seminary, he complete extensive research on the subject nonviolence and its implications for the Christian church, and its interaction with society, as well as its implication on missions.