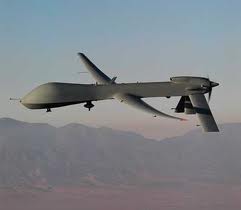 After World War I, British airmen looked for new opportunities to display their new weapons and they found one such opportunity on what was then called the Northwest Frontier of India, a part of which the world today names Pakistan.  Nearby Afghanistan was another such opportunity. Those airmen engaged in what they called, "police bombing," the bombing and strafing of rebellious tribes. The British had learned that the tribes of this part of the world would not be conquered easily and airpower offered what appeared to be an inexpensive and relatively risk free way of keeping these tribes under control. In Iraq, this was extended and whole cities could be brought under control by using airpower.
At one level this was quite gratifying. The airmen did not have to face opposition in the air and effective anti-aircraft weapons were yet to come. I had occasion some years ago to read reports of these police bombings written at the time. What came through the reports was the sense that this activity was what airpower was supposed to be. Ironically, these same police bombings gave rise to a state of mind which imagined that air war would be this way forever, and the British paid dearly for this illusion at the beginning of World War II, when German fighters and anti-aircraft fire destroyed British daytime bombers wholesale. And, to be fair, the British were not alone in this attitude about war in colonial situations. A number of nations would follow suit in different parts of Africa, for example.
I cannot help but be reminded of this attitude of mind when I read about the drone attacks over, ironically, the same part of the world as these earlier police bombings. Drones are not police bombing, to be sure. Now no airman risks his life, even minimally. As yet, drones do not attack whole cities. Yet, the sense of—and the expectation of—a certain kind of invulnerability remains. Think of our surprise recently when a drone was shot down. 
In addition, there remains the sense that because this is "precise" it is different. Further, this works outside of the "ordinary" rules of war. The drone wars are more vicious, however, than their police bombing predecessors. Their payloads are more lethal. As always, civilians pay a heavy price in all of this. The "pilots" on the other hand are not even close to the battlefield and we have not even begun to think about what happens if they were to be attacked while on duty in the United States or in their homes. Classically, combatants recognize that they might be killed. Indeed, it would have been dishonorable to engage in combat with someone who could not harm you. Do these "pilots" recognize this? Do we? 
Drone warfare also continues the attitude towards technology that has marked the history of aerial warfare, the attitude that we need just one more technical fix to make it work the way we think it should. The history of warfare in the twentieth century is replete with advantages gained with a new technology but these advantages did not last long. Should we assume that nowhere in the world is there a group of bright engineers trying to design and produce a counter to the drone? We do so at our peril.
But the possibility of a technological breakthrough that leads to a counter to the current practices of drone warfare should not concern us nearly as much as the current successes of drone warfare. Freed from the reality of the risk of effective opposition, we do what we do without worrying what others think. Like the British airmen in the 1920's over the northwest Frontier or the British and American airmen in 1945 who engaged in destroying German city after German city without fear of real opposition because the German air force was no longer effective, we destroy the enemy in this way simply because we can. Indeed, the "mission" of the drones has now expanded far beyond any battlefield. Not only do the boundaries of the nation-state mean little but membership in a nation-state means little as well. And the term "war" has itself become meaningless in all of this. Drones are a way of controlling those who resist, regardless of whether we are at war. "War" and "resistance" are on their way to becoming the same thing.
Stephen E. Lammers is the emeritus Helen H.P. Manson Professor in the Department of Religious Studies at Lafayette College in Easton, Pennsylvania.  Some of his earlier work on the ethics of war focused on British attitudes towards the bombing of German cities.