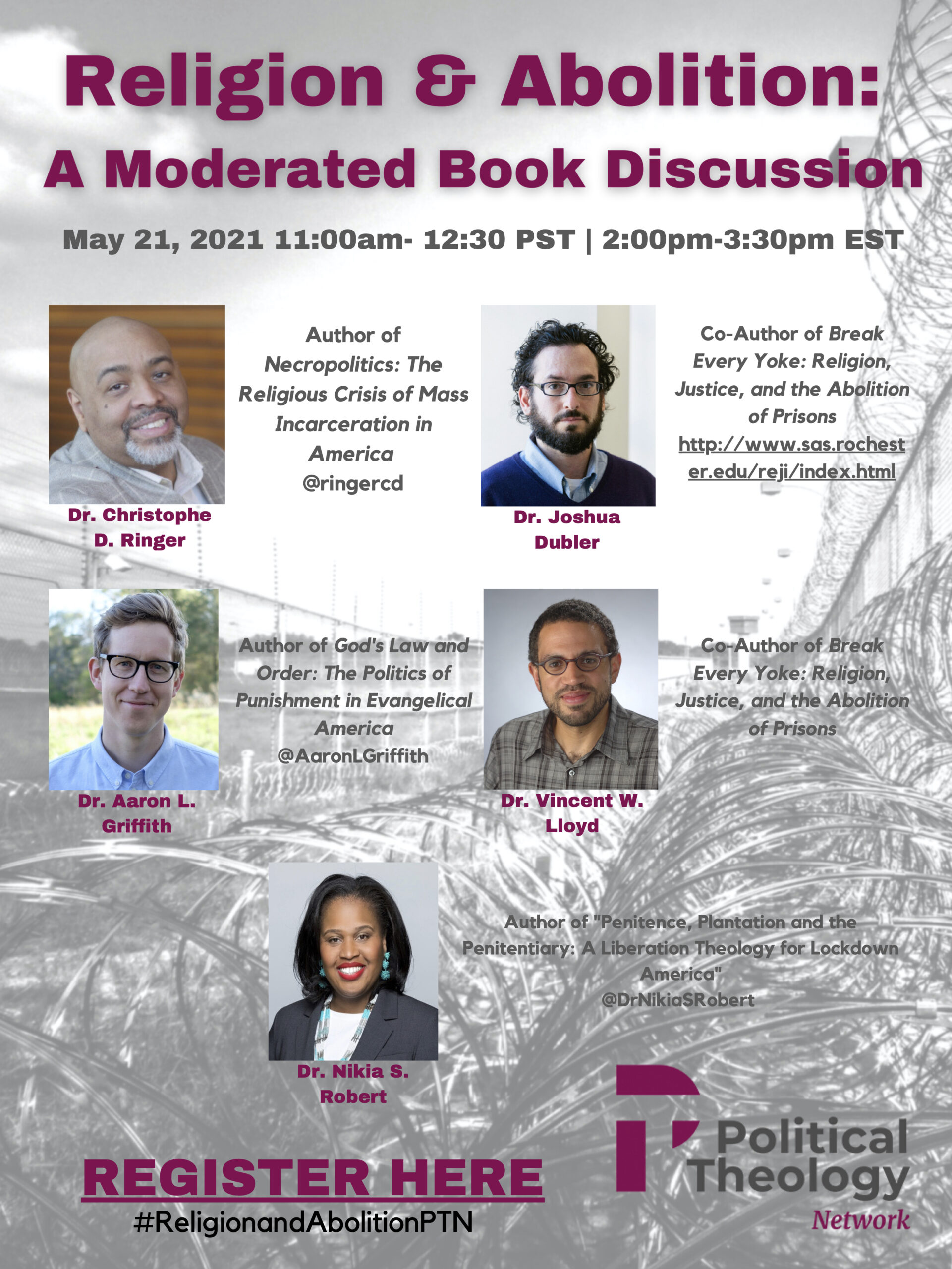 ---
From the architecture of early prisons to interpretations of punishment, the formation of prisons has its foundation in religious values. Religious groups such as the protestant reformers, Quakers and Puritans used notions of sin, penitence, salvation, and redemption to inform punitive philosophies that justified corporeal punishment and, later, reforms including solitary confinement. In view of religion's role with reinforcing the prison system, there is a perceived precarity in turning to religion to discuss abolishing the carceral state.
Conversely, abolitionist ideals of reducing harm, increasing accountability, focusing on healing and equitable distribution invoke liberatory religious values. Thus, it seems that the complex relationship between religion and abolition prompt further exploration, such as the ways in which religion may not only cause harm but can also help to provide an emancipatory framework beyond punitive responses that undergird the carceral state.
Questions that arise are can religious values and abolitionist ideals work together to inform visions of a more just and equitable society beyond prisons? Is it possible to disentangle religion from its harmful teachings and practices to reclaim its liberative purpose of setting the captives free? How can abolitionist movements inform and instruct faith communities to imagine a world beyond policing, prisons and surveillance? This panel discussion will grapple with the contradictions of religion and punishment but also the ways in which religion may contribute to a faith-based abolition movement and social thriving for dispossessed communities.
---
Nikia Robert (moderator)
Rev. Dr. Nikia Smith Robert is a Chau-Mellon Postdoctoral Fellow at Pomona College in the Religious Studies Department. Dr. Robert completed a Doctor of Philosophy degree in Religion at Claremont School of Theology. Her dissertation is titled, "Breaking the Law When the Law Breaks Us: A Womanist Theo-Ethical Approach to Public Policy and Criminal Justice Advocacy for the Black Church." Dr. Robert has published a peer-review article in the Harvard Graduate Journal titled, "Penitence, Plantation and the Penitentiary – A Liberation Theology for Lockdown America," which has gained national and international readership and citation. Her primary scholarly contribution is the use of transdisciplinary methods in religion, ethics, and public policy to examine theological and sociopolitical underpinnings of the carceral state by engaging an intersectional lens that centers Black women and the criminalization of impoverished Black motherhood.
Dr. Robert has served on the Society of Christian Ethics Board of Directors for four Annual Meetings and currently serves as a steering committee member for the Liberation Theologies group at the American Academy of Religion. In addition, Dr. Robert is the Founder and Executive Director of Abolitionist Sanctuary©, a nonprofit organization that helps faith-communities to identify public policies and transformative justice strategies to build sanctuary for system-impacted Black mothers and to abolish the carceral state. She is also the Founder and President of Cultural Competency Consulting Group, LLC., a firm that provides value-added solutions to strengthen organizational commitments to diversity, equity, and inclusion. Follow Dr. Robert on twitter @drnikiasrobert.
Joshua Dubler
Joshua Dubler is a critically engaged scholar whose teaching and writing takes place where American religious history and ethnography intersects with critical theory, and with the theory of religion. Among other topics he teaches classes on Religion in America, Islam in America, Theories of Religion, Guilt, Genealogy, and Pilgrimage. He is author of "Down in the Chapel: Religious Life in an American Prison" (FSG, 2013). With Andrea Sun-Mee Jones, he is the co-author of "Bang! Thud: World Spirit from a Texas School Book Depository" (Autraumaton, 2007). With Vincent Lloyd, he has published a book entitled "Break Every Yoke: Religion, Power, and the End of Mass Incarceration," which looks to marshal religious resources toward prison abolition. He is also working on a cultural history of the concept of guilt in America.
Aaaron Griffith
Aaron Griffith is Assistant Professor of History at Sattler College, where he teaches American history and the history of Christianity. A former postdoctoral fellow at the John C. Danforth Center on Religion and Politics and instructor at Washington University's Prison Education Program, he has written for the The Washington Post, Christianity Today, Religion News Service, Religions, and Fides et Historia. He also serves as a review editor for American religious history at Marginalia. Dr. Griffith is the author of God's Law and Order: The Politics of Punishment in Evangelical America, which was recently published with Harvard University Press.
Vincent Lloyd
Vincent Lloyd is Associate Professor of Theology and Religious Studies at Villanova University, where he directs the Villanova Political Theology Project. He specializes in political theology and African American religious thought and his research focuses on questions about the intersection of religious and political ideas using interdisciplinary methods.
Professor Lloyd's publications include five monographs, including Black Natural Law (2016), written during his NDIAS fellowship, as well as five edited books, including Race and Secularism in America (co-edited with Jonathon Kahn, 2016), begun during his NDIAS fellowship. Lloyd co-edits the journal Political Theology and edits the book series Reflection and Theory in the Study of Religion, published by Oxford University Press. He is the recipient of several grants from institutions that include the American Academy of Religion, the Louisville Institute, and the American Council of Learned Societies. He has also served as a Visiting Scholar at the James Weldon Johnson Institute for the Study of Race and Difference at Emory University (2010-2011) and as a Kingdon Fellow at the University of Wisconsin's Institute for Research in the Humanities (2015-2016).
Christophe Ringer
Professor Ringer's research interests include theological and social ethics, African American religion, public theology, religion and social sciences, religion and politics, critical theory and African American religion, and cultural studies. He is particularly interested in African American religion as a site for understanding the relationship of self, society and the sacred as it concerns human flourishing. Ringer's research currently focuses on the religious and cultural meanings that sustain and rationalize mass incarceration and other forms of social death in American public life.
"My teaching is guided by the conviction that theological ethics critically engage wide variety of disciplines in order to understand the ethical challenges and complexities our world faces today. Moreover, those preparing for ministry should be acquainted with the perennial problems of the human condition as well the conceptual tools to respond to specific challenges that we cannot yet imagine."