I recently made my first and overdue visit to the Democratic People's Republic of Korea (North Korea). Perhaps my greatest surprise was the presence of churches. That experience set me thinking and doing some research.
Most would hold that the DPRK bans religion of all sorts, indeed that it has become a truly atheistic state in the name of the philosophy of Juche, or that human beings are masters of their own destiny. However, the various constitutions (1948, 1972, 1992) guarantee freedom of religion and non-religion. It may seem that such statements are not worth the paper on which they are written, but let us look at some facts.
To begin with, the local Chondoism – or 'Religion of the Heavenly Way' – is recognised and in fact favoured by the government. Based on the teachings of Choe Je-u (1824-1864), it melds Confucian influences and local religious traditions. It inspired the Donghak Peasant Revolution of 1894 and is seen by the current government as a revolutionary and thereby anti-imperialist movement. In an echo that will be familiar to many, this religion is characterised as minjung or 'popular'. It has about 2.8 million adherents and 800 places of worship, and is led by Ryu Mi Yong, who 'defected' from south to north. Indeed, they even have a political party, called the Chondoist Chongu Party, or The Party of the Young Friends of the Heavenly Way.
But what about Christianity? Surely it is severely repressed. To be sure, its fortunes have been varied and its appeal has never been very strong. However, I am most intrigued by an article by Dae Young Ryu, 'Fresh Wineskins for New Wine: A New Perspective on North Korean Christianity', Journal of Church and State 48 (2006), pp. 659-75. It begins by noting a new openness of Christianity in the 1980s, with new churches built, a strengthened Protestant theological college in Pyongyang, and an increase in worshippers, now put at about 12,000. (This does not of course include foreign evangelical missionaries, who seem to want to spoil the party).
Is this a recent phenomenon, especially since the government itself has constructed the new churches? Not according to Ryu. He suggests it has a much longer history, going back to Christians of the 1950s who opted for Marxism-Leninism and supported the leadership of Kim Il-sung. This development is even more remarkable, since it took place in a context where Christianity was widely viewed as an imperialist, American phenomenon. Indeed, evidence indicates that the government tolerated about 200 pro-communist Christian churches during the 1960s. He writes:
Contrary to the common western view, it appears that North Korean leaders exhibited toleration to Christians who were supportive of Kim II Sung and his version of socialism. Presbyterian minister Gang Ryang Uk served as vice president of the DPRK from 1972 until his death in 1982, and Kim Chang Jun, an ordained Methodist minister, became vice chairman of the Supreme People's Assembly. They were buried in the exalted Patriots' Cemetery, and many other church leaders received national honors and medals. It appears that the government allowed the house churches in recognition of Christians' contribution to the building of the socialist nation (p. 673).
From this background, the role of the Korean Federation of Christians (a DPRK organisation) makes some sense. They established the Pyongyang theological college in 1972, published Bible translations and a hymnal in 1983, and oversaw the building of three new churches in 1988 with state funds. In all, five churches now exist in Pyongyang: three Protestant, one Roman Catholic and one Russian Orthodox (completed with state funds in 2006). The rise in numbers worshipping is attributed to the active search for Christians who are now enabled to worship openly. Even more, the Federation of Christians was crucial in enabling massive amounts of foreign aid into the north during the economic difficulties of the 1990s. Ryu writes that the 'Federation has successfully established itself as a valuable organization that works for the greater good of North Korean society'.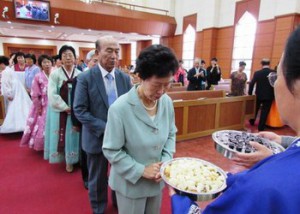 Above all, the Federation has been actively working with the south on a consistent campaign for reunification. Given that this is state policy in the north, it should be no surprise that the Federation has been seen in a positive light. Recently, on 15 August 2014, a worship service was held in Bongsu Protestant Church in Pyongyang, with prayers for peace and reunification. It was organised by the National Council of Churches of Korea (from the south) and the Korean Federation of Christians (from the north).