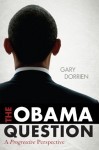 Every week on the lecture trail I meet progressives who are demoralized and/or infuriated by Barack Obama's performance as president. They insist that they will not work for him again or even vote for him. Many have signed petitions saying as much. They are finished with Obama.
Often they assume that I agree, since I have criticized many of Obama's policies throughout his presidency, and I have been deeply involved in the Occupy movement. But my progressive friends and allies are overlooking that many of them made this very mistake in 2000, that their charge of betrayal is exaggerated, and that Barack Obama, for all his temporizing and capitulation, is in important ways America's most progressive president since FDR. Moreover, electing a more compelling human being to the White House is probably impossible in this country. It is too soon to give up on our first African American president. So I wrote The Obama Question: A Progressive Perspective [….]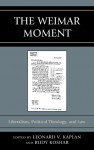 The Weimar Moment: Liberalism, Political Theology, and Law, edited by Leonard V. Kaplan and Rudy Koshar, is a set of papers from a conference held at UW-Madison in the fall of 2008 (Lexington Books, 2012). Many of the papers will be of direct interest to readers, most notably perhaps the set dealing with Karl Barth. Here I want to point out some of the more important observations and analyses that surfaced during the discussions (full disclosure: I attended and have a paper in the proceedings).