Walking into the small art museum on the campus of Saint Louis University, the installation on the far wall is impossible to miss but is easy to not see until directly within its shadow. Standing beneath the giant panels of brown canvas framed in tin, my eyes slowly began to focus on textures, indeed on the performative violence to the materials' surface, that had been invisible from a distance. Michael Tracy's "11th, 12th, and 13th Stations of the Cross for Latin America: La Pasión" is constructed as a triptych, that ancient and fraught form of visual narrative, and has been on permanent display in the Museum of Contemporary Religious Art (MOCRA) for more than twenty years. The architectural panels on display in the small museum are three of fourteen that Tracy created between 1982 and 1987, each a magnified version of tin-framed holy pictures popular in twentieth-century Mexican Catholic devotionalism. Instead of likenesses of the saints, however, these, to use Thomas McEvilley's description, "are huge, brooding emblems of blood, earth, and death, and the life that arises from them." "Ranging from bronze to dark violet in color," McEvilley continues, "they are like tormented fields, in one sense, ravaged by death, in another sense, torn up for planting" [McEvilley, Terminal Privileges (1987), 54]. In these panels and throughout his work, Tracy instantiates a tension between violence and redemption as he conscripts objects and places—material objects and physical places—into his aesthetic theology of the borderlands.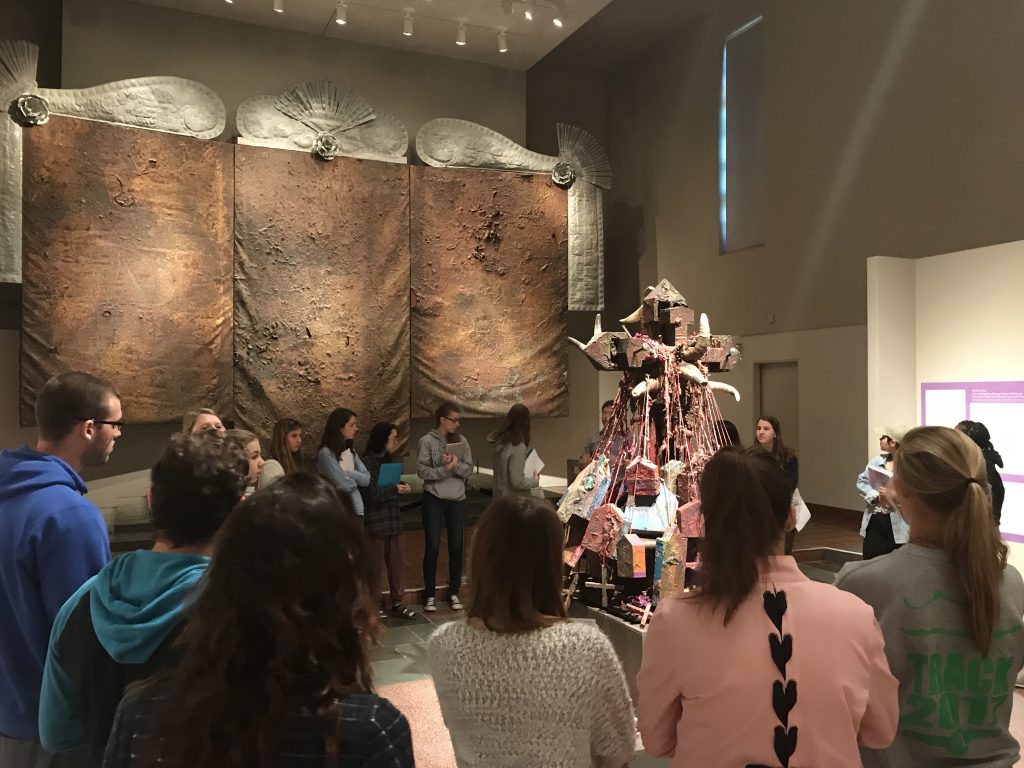 The Ohio-born American artist has lived for decades in the tiny borderland town of San Ygnacio, Texas, where his life's work traverses his artistic practice and his environmental activism. Across a body of work that defies convention of form or media, Tracy frequently recreates Catholic devotional objects—triptychs, crosses, altarpieces—into visual claims of political violence, social sin, and the spiritual contagion of blindness to the suffering of others. It is aesthetic theology, not in the sense that it is superficial, but in the sense that it is a kind of theological practice that pours out of rather than pours into his artistic practice. It is public art because it actively recruits scrutiny of what art is and where art is beheld. At MOCRA, for instance, the boundaries of sacred space collide with the tony performativity of the art museum. The museum's design still invokes the Jesuit chapel it once was. Mid-century stained-glass windows depicting biblical narrative in technicolor, now often covered, tower above the main gallery, and large stone altars (now deconsecrated) where batteries of priests once performed daily mass are still found in many side galleries. In a sense, the museum mirrors the same kind of recoding of sacred objects that Tracy performs in his own work. At MOCRA and elsewhere, Tracy's artworks transect boundaries of sacred and secular, religion and state, private and public.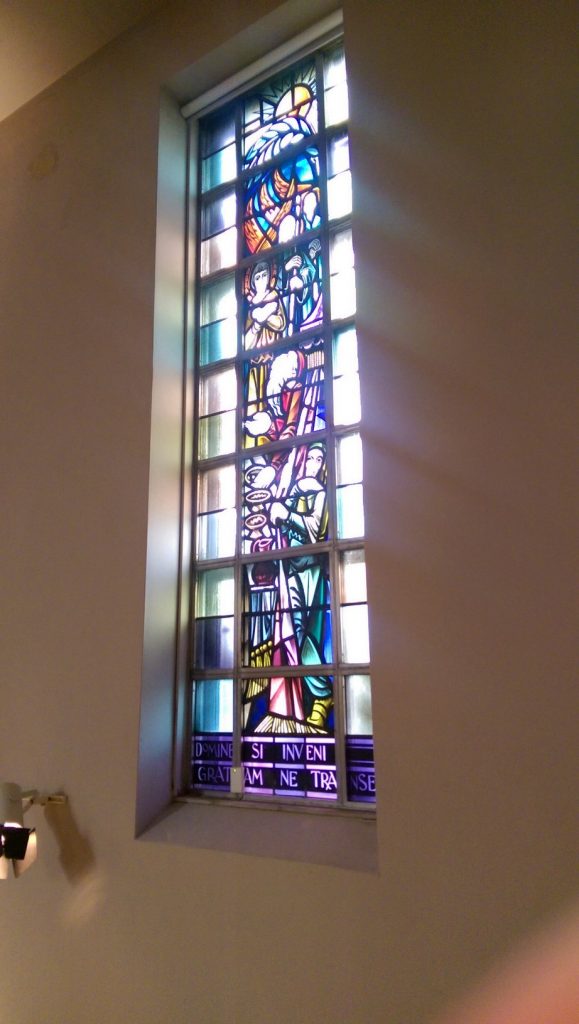 In other Michael Tracy pieces, the public performativity of violence, sacred objects, and places is more obvious. In his 1990 performance art piece, "River Pierce: Sacrifice II, 14.3.90," the artist burned his sculpture "Cruz: La Pasion" (1982-1987) on the Rio Grande/Rio Bravo in protest of the border river's toxic contamination, at once calamitous to local residents and indicative of a broader range of exploitative policies affecting vulnerable populations. A 1987 review by Michael Bresson described "Cruz" as one among many in that show that were equipped with "carrying rods so they can be used in actual religious procession." His description of the piece continues:
The cross has serrated edges, like a saw. Hanging from it like dozens of streamers, so thickly clumped that they suggest the fabric of a dress, are small shrines and cheap devotional images. One side of the cross is penetrated with horns, emblems of another arena of sacrifice, triumph and death.
In "River Pierce," the public practices of liturgical procession were built into the artwork itself and into the artwork's political performativity. The "small shrines and cheap devotional images" that Bresson noted lend deeper insight into Tracy's aesthetic theology of the borderlands. These Milagros invoke Latinx Catholic devotional practice and surface throughout Tracy's work as entanglements of his various threads of materiality and place, sacred art and state violence. Even in works like his Stations of the Cross, mundane material objects are transfigured into Milagros, sacred articles that reveal the intimate transactions of human suffering and divine power.
Another Tracy piece recently acquired by MOCRA similarly explores borderlands of sacred art and state violence through performative violence of material objects. "Cruz to Bishop Oscar Romero, Martyr of El Salvador" (1980-1981) is another processional cross sculpture that towers at nearly ten feet tall. It is impaled by more than a dozen bull horns, draped with a meticulously precise shade of purple fabric, pierced by large nails, and covered with stylized boxes that invoke Milagros. At the base of the cross, fresh flowers dry into dusty relics of life extinguished, and a tabloid newspaper captures the gory scene of Archbishop Oscar Romero's execution as he celebrated mass in San Salvador in March 1980. Like many of Tracy's works, it is an object less to be seen than to be circumambulated, beheld, and revulsed by. It is a difficult piece to comprehend. But that, perhaps, is the point. Whatever their theological claims, in Mexican and Chicano Catholicism, Milagros are material objects that declare association between the embodied lives of the faithful and conduits of sacred power that course through history.
In a 1981 reflection on the Romero Cross, at the moment he was creating the works introduced here, Tracy himself articulated ties between place, materiality, and violence through theological language: "This work was dedicated to my brothers and sisters in Central America as they entered the horror of the eighties experiences the daily madness of terror and the insane waste of war." "The religious truths of this war, as found in A Theology of Liberation by Gustavo Gutierrez, my original source of inspiration, remain unchanged," he continued, before concluding, "Baptism by blood, then by fire, by bullets. A sacramental death. Holy life! A life of suffering . . . to find the body and blood of Christ ineffably and ironically is our body and our blood" (Edward Leffingwell, Terminal Privileges, 31).
Tracy's performative violence to triptychs, processional crosses, and other Catholic devotional objects recode Milagros as registers of the sacred that simultaneously invoke state violence in twentieth-century Latin America. In his 1987 review Brenson mused on the central question that he envisioned the artist wrestling with. "How can the genuine religious impulse that has been dressed up in religious dogma be rescued and preserved?" "Stripped of dogma," Brenson continued, "Mr. Tracy enters a realm in which big, conflicting feelings are not easily sorted out and tamed." As other contributors to this series have shown, public art, in all of its multifaceted and polyphonic instances, wrestles with performative violences of objects and places. For Tracy, aesthetic theologies of the borderlands transect boundaries of the public and must be "tremendously physical," to again use Brenson's language. Stabbing and cutting, rubbing hair and excrement and blood into surfaces, burning and dismembering, are performed not as gratuitous violence to objects of devotion but as the necessary passage to "find the body and blood of Christ ineffably and ironically is our body and our blood."