The following is an extract from a conversation between Kieran Griffiths, director and theatre producer, and Méadhbh McIvor, special projects editor for the journal Political Theology, which took place at the Derry Playhouse on July 8th, 2022. The first of two interviews on the theme of partition and/as political theology, it focuses on the play The White Handkerchief.
The White Handkerchief tells the story of Bloody Sunday, the 1972 massacre in which British soldiers shot at unarmed civilians during a civil rights march in the Bogside, a predominately Catholic area of Derry, Northern Ireland. Thirteen people died on Bloody Sunday itself, while others sustained life-altering injuries.[1] The play's title references the most famous photograph of the massacre, in which Catholic priest Fr Edward Daly waves a bloodied handkerchief before him as a group of men carry the fatally-wounded body of a 17-year-old boy in search of medical treatment.[2]
The White Handkerchief premiered at the Derry Playhouse on January 30th, 2022, the 50th anniversary of Bloody Sunday. It is the first in a trilogy directed by Kieran Griffiths that focuses on the Troubles and the subsequent peace process.
The full conversation will appear in Political Theology in 2024.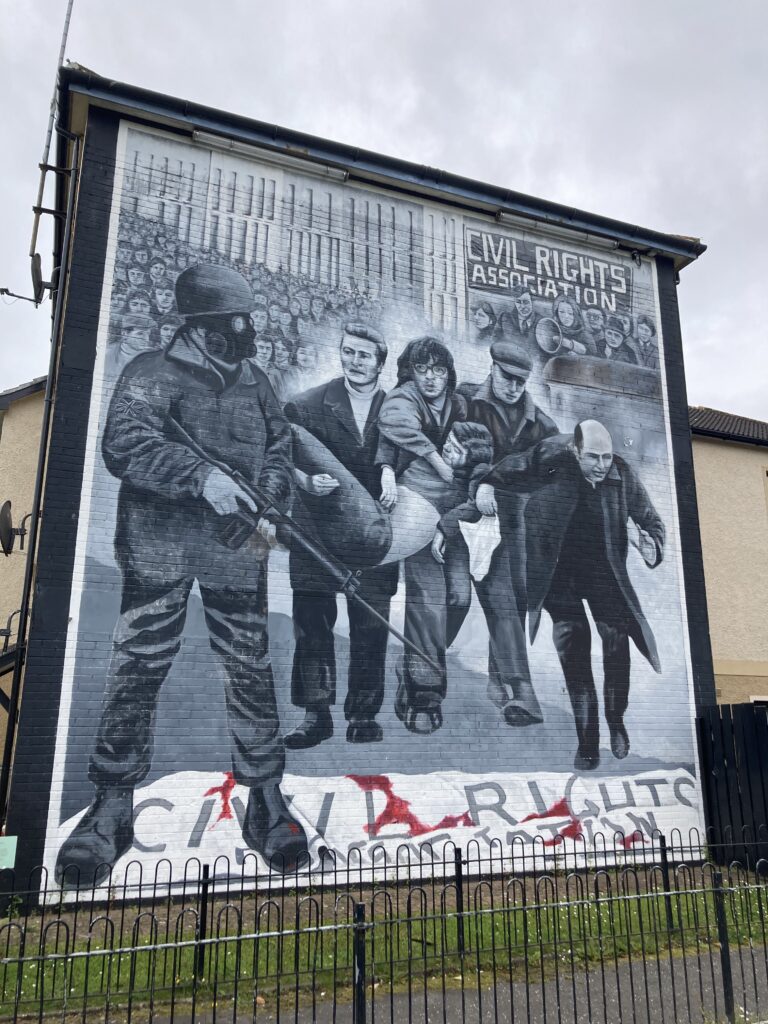 Méadhbh McIvor (MM): My colleague Milinda Banerjee and I were hoping to find a way to commemorate the 75th anniversary of Partition in India/Pakistan (1947) and the 100th anniversary of Partition in Ireland/Northern Ireland (1921) for the journal Political Theology. Theatre seemed an interesting way to approach that. So I wanted to just chat about your experience of [directing and producing] this play, The White Handkerchief—of art and memory and trauma.
Kieran Griffiths (KG): It's a good place to start, I think. I suppose the inspiration moment was in the office upstairs [in the Derry Playhouse]. We're always planning and thinking ahead and wondering what should be tackled next, what's contextually relevant now.
Part of this was connected to my family. Quietly, very quietly, actually, my dad told me that his cousin had been killed on Bloody Sunday. I didn't know this growing up. Both my parents were very careful about the influence of politics at home and making sure that we always made our own minds up about people at face value, rather than how they were branded in life, if you understand. He told me that quietly one evening. I was in my late 20s at the time. So I had done a lot of research into it.
But I did that thing in 2018, early 2018, where I Googled Bloody Sunday. And the first video I saw was Fr Edward Daly coming around the corner, waving his white handkerchief. My son was two years old at the time, and my daughter had just been born. And when I saw this, and I saw the lifeless body of that seventeen-year-old boy being carried, I immediately started to hurt, just by way of empathy. So it was an immediate inspiration…
The idea was placed upon me. The writer, Liam Campbell, was sitting in the same room as me. I stood up from my chair, walked over to him, and said: "I'm going to tackle Bloody Sunday and we're going to call it The White Handkerchief, and it's going to be through the medium of musical theatre." And he couldn't believe it. He said, "God, why the hell would you do that?" So that's where it began.
And it was trauma-based. It was trauma-based and pain-based, because every single year, the same blood, bullets, blankets, bodies are all lying on the ground. And everybody's looking down. So the whole point was to try and find a way, fifty years on, to have everyone looking up, to try and say: What were these lives? What did they mean?
The White Handkerchief was always supposed to be a part of a trilogy. And fifty years ago, Bloody Sunday, was the beginning, because it was a catalyst. The next thing that we're looking at is the life, the waking lives of John and Pat Hume, as we approach the 25th anniversary of the Good Friday Agreement.[3] We're right in the thick of that at the minute. That's the second part of the trilogy, and then there is a third part that will follow.
I dared not breathe a word about the trilogy until we could convince people that we would handle Bloody Sunday sensitively, I suppose, and with a sense of grace, because we were turning to song. And that was quite a difficult thing to imagine doing. But when you're working with a writer like Liam Campbell and a composer like Brian O'Doherty, you know the nature of people's hearts, and these artists' hearts, by their writing. I had commissioned both of them before, and they were the real deal. Our missions aligned. So that was the inspiration behind it.
Then we got in touch with the victims' families to seek permission… The families got deeply involved.
The fabric of this white handkerchief [is so important]. It changed from a symbol of what is commonly seen as an act of surrender to something that is now an act of love. It was stemming the blood, the flow of blood, and stemming the flow of tears during one of the worst atrocities of our history.
So that's what it was about. It wasn't about not telling a story from another side, about not looking at a certain perspective or from someone else's point of view. It wasn't about that. It was just, "Let's just look at this." Because it's impossible to cover everything. So we were very careful about trying to say, "Look, we're just dealing with this. We're just dealing with these hearts, we're just dealing with these moments. And we're just trying to show this in a different way," you know?
A lot of it is about reframing grief, I think. The writer that we're working with now, a guy called Damien Gorman, he had said something to me once while working on a previous project, prior to The White Handkerchief. To the day I die, I will never forget this phrase. I say it nearly every day, I think, to different people, because I think it helps. And the phrase is, "Grief is love that has nowhere to go." Grief is love that has nowhere to go. Because when you lose someone, all this love is bottled up inside, and you can't put it on them.
I think the reframing of that grief—to try and put your love somewhere, all that love that is bottled up—that's what we wanted to do with The White Handkerchief. Give the community a place to put it for one evening…
I came to work here [at the Derry Playhouse] because of the founder and artistic director of the Playhouse, Pauline Ross. Our missions aligned. Pauline thought: "Okay, so, the politics of Northern Ireland will not allow us to have a Truth Commission. So let's put it on the boards of theatre." And that was her mission. Right behind you is a banner for Theatre of Witness. For the last thirty years, Pauline has brought victims, survivors, ex-combatants, and governors of the Maze Prison in, put them all in one room, and had them tell their stories. Then they would go through a process of maybe reconciliation, maybe therapy, but also curating their verbatim stories and presenting that as a piece of theatre. And that would then be presented to the public, who would watch and engage and ask questions of it. But it was a way of speaking truth to power.
It was also a way of speaking truth with power, as well. Recently, one of these theatre productions was seen in Westminster. Over forty MPs [Members of the British Parliament] came to see the testimonies of people who had lost children during the Troubles. And they told their stories in direct testimony to power. That's been Pauline's mission for a very long time. So there's been the verbatim nature of it, the testimonial nature of using the boards of a theatre to tell the truth…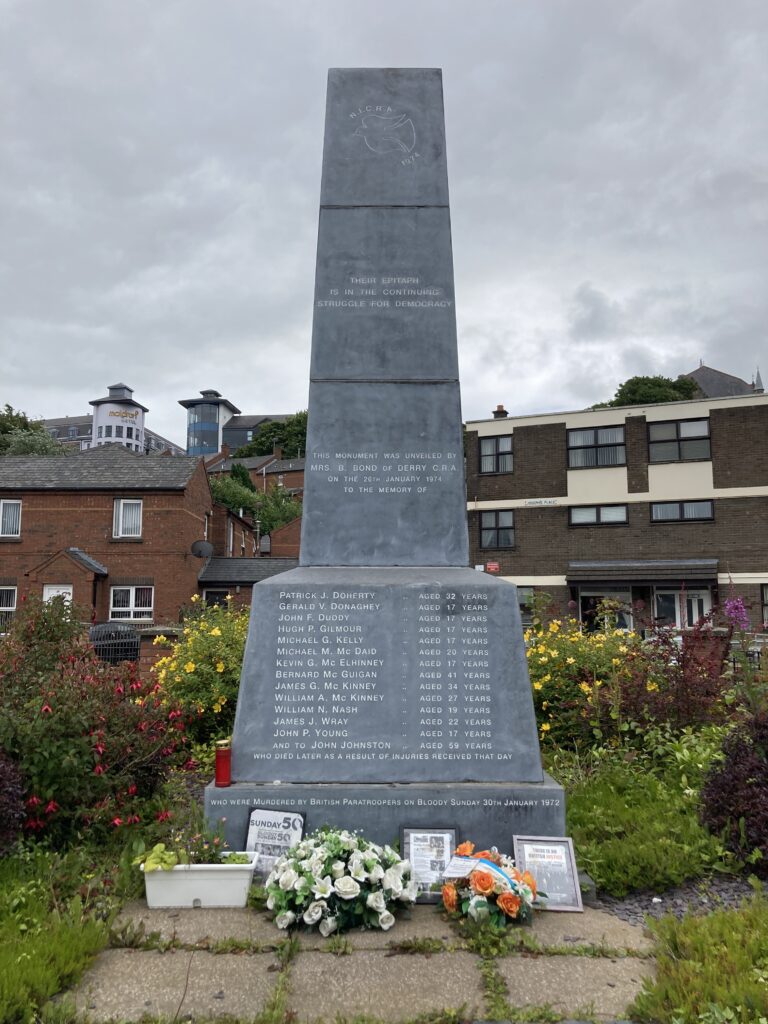 Kieran Griffiths is Producer and Director of the Playhouse Theatre, Derry. The full conversation between Griffiths and McIvor will appear in Political Theology in 2024.
---
[1] Patrick Doherty, Gerald Donaghey, John (Jackie) Duddy, Hugh Gilmour, Michael Kelly, Michael McDaid, Kevin McElhinney, Bernard McGuigan, Gerard McKinney, William McKinney, William Nash, James Wray and John Young lost their lives on Bloody Sunday. John Johnston, who was shot on Bloody Sunday, died in June 1972; his family attribute his death to his injuries.
[2] Jackie Duddy, the boy in the photograph, was likely the first person to be killed on Bloody Sunday.
[3] The Good Friday (or Belfast) Agreement, which was signed on the 10th of April, 1998, marked a significant step in Northern Ireland's peace process. The leaders of the two main political parties who signed the agreement, David Trimble (Ulster Unionist Party [UUP]) and John Hume (Social Democratic and Labour Party [SDLP]), were jointly awarded the 1998 Nobel Peace Prize. John Hume died in August, 2020.