Last week, before Sandy became the focus of everyone's attention here on the East Coast, I sent what felt like a pretty risky email to the adult members of my family back in Georgia (all four of them). As my bio states, I'm a bleeding heart Jesus freak liberal in a family of conservatives for whom religion is not a central focus of life.
Normally, I ignore this fact. I live hundreds of miles from my family so we don't interact very often in person, and I know how to avoid the hot-button issues on the phone. I'm adept at dissembling in a polite Southern style when a conversation takes a political turn. Generally I just ask about my niece, as questions about her, addressed to her parents or her grand-parents, are guaranteed to divert even the angriest tirade.
I follow the same sort of non-engagement policy on social media. I don't post (or re-post) political articles and opinions as often as some of my friends, and I tend to shy away from sharing the more inflammatory ones, even when I agree. If I do feel the need to post something particularly provocative, I filter the post so that my family doesn't see it.
And yet, I decided to send that risky email. You see, even though my family seems to follow pretty much the same rules of non-engagement that I do on social media, I keep seeing the ads in my Facebook newsfeed that tell me that "So and So Family Member likes a page: Mitt Romney for President." I realized that other than a brief and rather enlightening exchange with my brother during one of the presidential debates, and some major assumptions on my part, I don't know the reasons why people in my family are supporting Romney. So I sent an email to ask. Here's part of what I wrote.
"In my world, I don't encounter many folks who are going to vote for Romney. We are terrified of his positions on women's health, marriage equality, social security, helping the poor, and a host of other issues. And we pretty much all agree with each other. So while the discussions with these folks are congenial, they don't offer much in the way of reasonable opposing views.
I'd love to hear from all of you about why you're voting the way you are. I promise not to vilify anyone in print (or even in my own head), as I love you all deeply. Tell me why you're voting FOR the other guy (if you are), not why you're voting against Obama. Stick to specifics when you can. Tell me about plans or policies that you favor."
I worked on the wording of that email for hours. And when I finally hit send, I could feel my nerves working overtime while I waited for responses. I'm not sure what made me so anxious. Partly I was worried that they might respond with vitriol about a woman's right to choose or marriage equality or something else that's a core principle for me. But I think I was also worried that by breaking the rules of non-engagement, I was going to somehow do more harm to my already fraught relationship with my family.
Only my brother and my dad responded. I even sent a gentle reminder to my mom and my sister-in-law, but I only heard back from the men. Which is too bad, because I'd really like to know why women are voting for Romney, but that's another topic for another day.
My dad and my brother didn't tell me anything surprising about why they support Romney. My brother owns a small business and my dad owns several rental properties that he manages in his retirement. They both believe that Romney's economic policies will be better for them, and thus for the whole country. They both subscribe to the "less government is better" school of thought, and they believe Romney will as well.
My brother's response focused mostly on the Affordable Care Act and his belief that it infringes on states' rights and personal liberty while also being bad economic policy.  My dad gave a more comprehensive response that boils down to the fact that he believes that Romney is more business-friendly. He believes that with minimal government regulation, capitalism will result in more jobs and more overall prosperity.
None of this was a surprise to me. These are fairly standard conservative political positions, and they are exactly what I heard from my dad growing up. My family hasn't changed their political views; I have.
My progressive Christian faith informs my belief that everyone should have access to basic healthcare no matter what their income. My faith also informs my belief that the responsibility to care for the least among us is NOT met by each of us striving for our own prosperity. For me, being a Jesus follower means that I believe we have an obligation to intentionally help those who need it, not just trust that prosperity will trickle down to them if capitalism is allowed free reign.
I didn't change anyone's mind about these things, and I didn't set out to do so. I promised as much in my original email not to write back and argue my own side. But it turns out that there were softer hearts than I had imagined on the other side of the political divide.
My brother ended his email with a very deliberate "I love you," reminding me that he is, of course, capable of loving his sister despite our opposing political ideologies.
But it was my dad who dropped a bombshell that I never, ever saw coming. In commenting on some of the issues I raised he said, "Marriage equality: I see your side now. Seems to me it should be the same for all."
I had no idea that my dad had changed his view on marriage equality, and I might never have discovered that fact if I hadn't been willing to abandon my comfortable policy of non-engagement. It was definitely worth the risk.
**********************************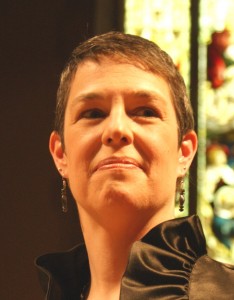 About Marie Alford-Harkey
I am the Director of Education and Training for the Religious Institute, a multifaith nonprofit organization working to promote sexual justice, education, and healing in faith communities and society. I'm also an aspirant for Holy Orders in the Episcopal diocese of Connecticut as well as a provincial coordinator for Integrity USA.
I preach regularly at St. Mark's Episcopal Chapel in Storrs, Connecticut and at my home parish, Trinity Episcopal Church in Hartford, Connecticut. I teach and speak on issues of faith and sexuality in contexts as diverse as "theology on tap" and workshops at seminaries.
I am unabashedly progressive in my faith and my politics. I come from a small, conservative Southern town, and a politically conservative, non-religious family, so the dialogue partners that engage my imagination on politics are interesting, to say the least. Before seminary, I had a twenty-year career as an educator, teaching French and Spanish in a large public school system.
I met my wife April when we were students at Episcopal Divinity School and we were married in May of 2011. We make our home in Hamden, Connecticut, along with one very spoiled cat.
I blog sporadically at Love is Strong as Death and you can follow me on Twitter @EMarieAH.