Now that the election season is over in America, it might be a good time to take a step back and take a longer, more substantive look at some of the principles of Christian social thought than is sometimes possible in the midst of soundbites and stump speeches. Given the religious makeup of the candidates at the top of the tickets, Catholic Social Teaching (CST) was the focus of some attention in the national political conversation. It's been noted that the political overlays onto religious faith are often just as constricting and reductive as partisanship itself. As Robert Joustra has observed, "Isn't it ironic that the ecclesial conversation is essentially a thinly-baptized version of exactly the same disagreements in the secular world, but with less technical capacity and more theological abstraction?"
This is in some sense what has happened to principles of CST like subsidiarity and solidarity.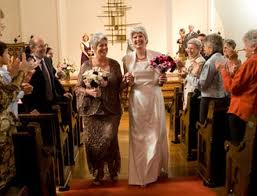 Maybe it's strange to think about political theology at a wedding ceremony. But political theology was on my mind a few years ago, when I attended the wedding of a same-sex couple in my extended family. The recent victories for marriage equality in Maine, Maryland, and Washington have me thinking about political theology again. I had a Thomist epiphany at that wedding years ago, and as the levees blocking marriage equality seem ready to break, I'd like to share that experience…

There is no shortage of elements in Romney's statements to investigate. In particular, his ridiculously inaccurate statements about taxes are being addressed by journalists and analysts like Ezra Klein in today's Washington Post. But behind his statement about victimhood and the dismissal of almost half the country as dependent upon the government without any contribution to civil society is a revealing ideology of the public order that I find most disturbing.