Anton Flores-Maisonet is an immigrant advocate and social change worker in LaGrange, Georgia. Flores organizes through Casa Alterna, a house of hospitality on a cul-de-sac comprised of first wave immigrants. Flores was a keynote speaker at the Political Theology Network's inaugural conference in February, 2018.
Originally trained as a social worker, Flores was radicalized by his protests of the US wars in Afghanistan and Iraq as well as his experiences as a foster parent and advocate for children in the foster care system. Since 2006, he has worked blended social work, activism, and faith-rooted organizing in his communal life with immigrants in his community.
KL: For folks unfamiliar with Casa Alterna, can you tell us what a day in your common life looks like?
AF: Casa Alterna is a place where acts of mercy and justice are undergirded by the principle of hospitality. Uniquely, the solidarity we seek is with immigrants from Latin America.
Historically this has played itself out in different ways: by having an intentional community that was multi-national, by making home ownership a viable option for first wave immigrant families regardless of their status, by founding another house of hospitality (El Refugio) outside Stewart Detention Center, by organizing a national movement to call for the closure of that for-profit facility.
Now, what it looks like since 2017 is that this house of hospitality, Casa Alterna, exists in the midst of a first-wave immigrant neighborhood, almost entirely Guatemalan. We are a ministry of presence here. We have an after-school program during the school year, and this summer we've held a freedom school for neighborhood children.
KL: We've heard a lot about immigrant children in the news this summer as we've witnessed the racist and horrific policy of separating families at the border. I know a lot of your current work is with the immigrant children on your block. How have these national trends impacted your hyper-local work?
AF: First, we have been assisting unaccompanied minors for a few years now; helping to find placements when there is no viable family member. Just yesterday I was contacted by a child's attorney. The child arrived to the U.S. alone and the child called the attorney in tears because he was being forced by his caregiver to work and pay rent rather than attend school. And this child is of an age where attendance is compulsory.
When we moved into our current neighborhood in the fall and we started our after-school program we did an intake form with the children. One of the questions was: what do you like best about this neighborhood? Another was what do you like least about this neighborhood? Almost all the children had something to say about immigration enforcement officials. "The bad men" is the way some of these kids would describe them.
We've worked to make this cul-de-sac a place where children don't have to live in fear of being separated from their parents because of racist policies. That has meant offering defend-your-rights presentations and filing complaints against ICE agents. But it also means accompanying some of our recently arrived asylum-seeking families to immigration court as well as just being involved in the beautiful day-to-day activities of this resilient neighborhood.
KL: One of the ways you're drawing from the well of resilience and creating that community of resistance and sanctuary on your block is through a Freedom School, drawing on SNCC's practice in Mississippi in the summer of 1964. Can you say a bit more about that?
AF: This summer we organized our first Freedom School; we called it Camp ¡Libertad! The aim of Camp ¡Libertad! was to develop confident, literate, and empowered Latinx children who will be change-makers in their families and local community.
One of the things we've emphasized is whose land we're on. We talked about the Woodland and Creek nations that lived here and the Indian Removal Act of 1829. And then you have a United Methodist college moving here in 1831. So we researched some of those things together to find out what it looked like here in the early 1800s. Who would have been here? What would that have looked like? And of course, they are children so we'll also played some Native American games and and read some folklore.
Then together we learned about this community's history during the Jim Crow era; how our neighborhood was an separate and unequal African American community of domestic workers and landscapers for some of the elite white families in our town.
Goose Holler, as our street was called during those days, was one of three African American enclaves near what is now the exclusive Country Club Drive. It was the center of the three communities. Interestingly, one of the other communities just west of us still exists and, catch its name – Redline Alley. I don't know if the name was intentional but I sometimes wonder if I'm the only person in town who knows the significance of that term. One of the few remaining neighborhoods of the Jim Crow era in our town is named after a discriminatory housing and banking term.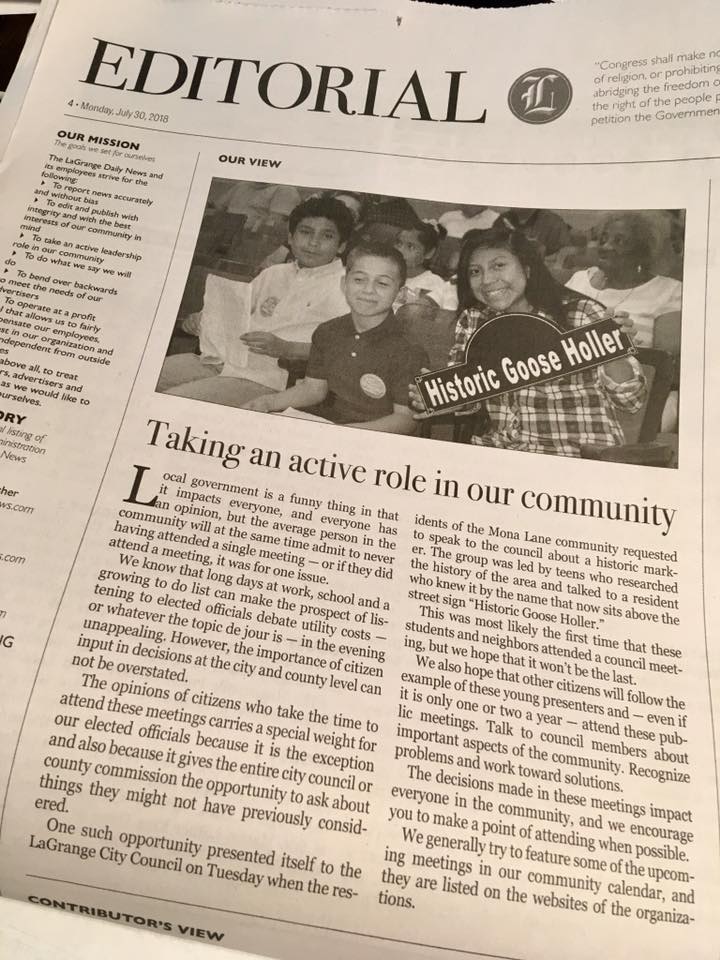 If you look at the topography of the land in Goose Holler you can see that that those who lived here before us practiced terrace gardening. Older neighbors and former residents recall chicken and children running about freely. These descriptions of our neighborhood's yesteryears sound an awful lot like the neighborhood today; with folks cultivating their own food, the chickens, and the children out playing.
So this summer, with the children we researched our neighborhood's history. For this we used newspaper articles and two primary sources: a couple of octogenarians, one black, the other white. We recorded and reflected upon their stories.
Then the children moved into action as they realized their political and civic power. Three of our neighborhood's children, whose average age was 13 years old, spoke before the mayor and city council and formally requested that a street sign be approved that recaptured our historic name. The African American members of the city council quickly and enthusiastically stumbled over one another trying to make the motion and second. One white city council person, most impressed with the eloquent and persuasive presentation of these new leaders mused aloud if anyone could reject such a well-prepared presentation. And with that the children saw civic engagement and democracy in action as the request was approved unanimously and, because the children led, our street has recovered a historic name from a time when our land's residents were stripped of their agency.
KL: I love how you've drawn on the Freedom School tradition and applied it to your own context in all of its specifity.
AF: As a child I would have never known, and most adults don't know, the history of where they live. Now, it is the children of our neighborhood who are our teachers. They're teaching their parents about the Creeks and Woodlands, and about Miss Mattie and her memories as a black child in Goose Holler. It is our children who confidently welcome visitors to Casa Alterna and proudly share this recovered history and renewed purpose.  The spirit of resilience is alive and well in Goose Holler; how can it not be? It's in the roots.
KL: One of the things that I am fascinated by in your own life's work is that you were trained as a social worker, and then moved into more activist work, especially around immigration detention and Stewart Detention Center in particular. But then you've also drawn on traditions of community organizing as well. I wonder, how do these practices of social work, activism, and organizing all fit together in your practice?
AF: In social work it all fits together: case management, advocacy, and community organizing.  I draw from a stream of my profession called radical social work. Unfortunately, radical social work wasn't something that I was taught in the institutions where I studied. It was something I learned about after my formal education. But social work is rooted in a tradition of struggle for social justice. Even today it's right there in the preamble our profession's code of ethics. There is a historic commitment to not just alleviate suffering but to also dismantle the systems of injustice and oppression.
In my practice, there is also a strong thread of theological reflection and imagination. I try to understand my activism and organizing from a faith-rooted perspective.
KL: Why is that?
AF: Because I was raised in the South!
KL: Ha! Can you say more than that?
AF: I was raised in a nominally Catholic family. When we moved to the South during my preadolescence I began regularly attending evangelical churches. So I remember the oft-quoted question: what would Jesus do? That was an easier question to ask if only relegated issues of personal piety. And that tended to be what was magnified: the personal. But ever since childhood, there has been this inexplicable social justice bent within me that I think explains why I was drawn to social work. Then, social work offered me some theories and skill sets to analyze human behavior within the contexts of systems and our social environment. What I needed though was to find a way to merge my deeply personal faith with my expanding passion for justice.
I met my now wife of 24 years when we were both in college. We met in a Bible study at a Baptist church. In that church, the closest I can recall to them ever discussing any topic regarding social ethics was when they discussed abortion. And their answer was simply to repeal a law.
While there was deep conviction, I always recall it feeling disconnected to a viewpoint that would deem all of life as sacred, from the unborn, to the poor, and to those on death row.  I wasn't offered a guidepost on how to discern the complexities of ethics; just a court ruling that needed to be overturned. It was obviously very lopsided. I would figure out later, I could have much more appreciation for what is called a seamless garment ethic of life, one that views all of life is sacred. I also developed a theoretical and theological lens that found it more important to dismantle the conditions that lead to injustice and oppression rather than to engage in a binary debate that often blamed victims for their circumstances.
So Charlotte and I are dating and we're attending this church and that's the only "social issue" they're talking about. I'm a social work student interning at a shelter for children who are abused and neglected. These children were placed in an old school that was being repurposed as a substandard shelter. It might as well have had a revolving door because it was all too common to see children leave this facility, have a failed placement with a foster family, and return right back only more bitter and emotionally detached. I'm seeing these kids who need families, and a system ill-equipped to handle their immense needs, but in my congregation I can't think of a single family who has adopted a child. I kept pondering, what does it mean to be pro-life? If you repeal this law, who is going to care for these kids when no one is caring for them right now? That was a moment of theological dissonance for me.
So, when Charlotte and I got engaged, we naturally talked about our dreams for our future family. I kept going back to that moment and it made me want to adopt children. Logically then, in our marriage when we first decided to raise children, we turned to fostering. We helped raise some children in need of temporary children via direct relationships with their parents or caregivers. But when we turned to our local department of family and children services in hopes of adopting, we were quickly matched with a toddler. This child was eventually adopted but, heartbreakingly, not by us. After a tumultuous relationship with the case manager and supervisor and unfounded and uninvestigated allegations of inducing the birth mother, the small child was forcibly removed from our custody. The trauma and pain of that loss was so great.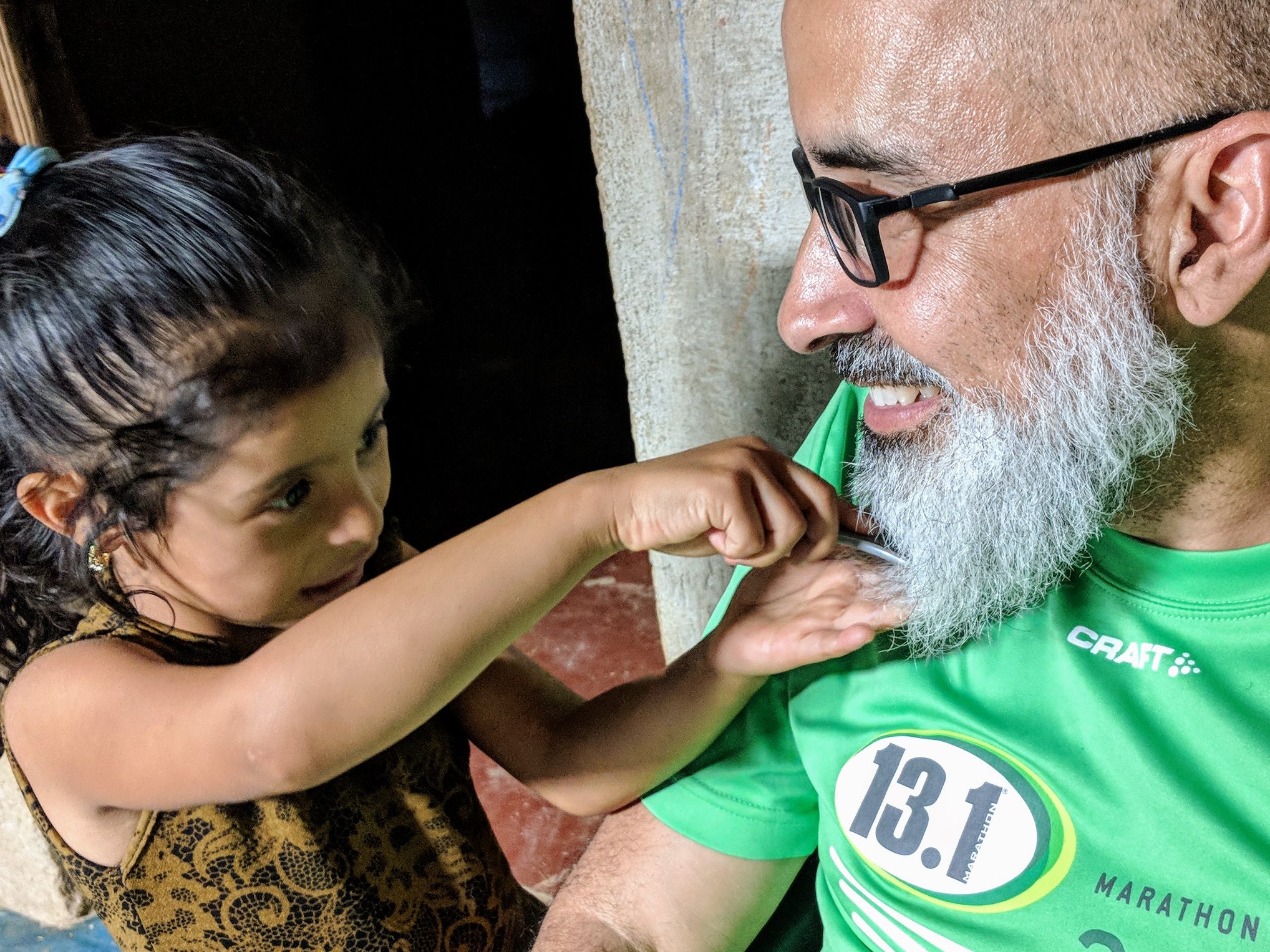 But that was also the very moment when I began to see how institutions can perpetuate injustice and oppression and that my faith and convictions compelled me to act for justice. The foster system needed reform, not solely because of my injury but because of the egregious ways policies and practices fail to ensure children are safeguarded and their best interests secured. Someone had to hold such systems accountable.
I began to organize protests outside of our local department. I helped publicly uncover repeated incidents of false allegations that were being used to usurp the rights of foster parents and the best interest of foster children. We worked with our local newspaper and an award-winning investigative series was published. Case managers and supervisors were transferred. That was a pivotal time for me in understanding that this faith-rooted desire to seek justice, could not be relegated to just the personal piety. It had to challenge structures and institutions, policies and laws.
It was out of my own stubbornness and perhaps resilience then that out of the ashes of a failed placement, Charlotte and I adopted a Guatemalan toddler named Jairo.
Because Jairo, a Mayan Guatemalan, was from a different cultural background than either of us, we felt it vital to both learn and "adopt" his culture as well as keep him in close contact with other Guatemalans. Two primary ways we accomplished this was by spending summers serving at a seminary in Guatemala as well as regularly attending a Spanish-language congregation in our community.
In that church we began to hear the cries of unjust suffering that confronted this mostly, what I call, undocumentable community. And so with a lens informed by theory, practice, and personal experience. I was increasingly sensitive to stories of systemic abuse and exploitation. What I thought was an attempt at simply cultural appreciation became the seedbed of a new vocation. Through our own wound we're being called into this.
KL: In some ways, I imagine, the work with the kids on your block brings you full circle: walking alongside them, teaching them about the history of their place, inviting them into the work of resistance and hospitality, creating sanctuary on the cul-de-sac. This is powerful, social change work. Thank you for sharing a bit about it with me.