"And he answers, 'Do not bother me; the door has already been locked, and my children are with me in bed; I cannot get up and give you anything.'"
I am a breast-feeding, co-sleeping mother of two.  When I am in bed with my toddler, it usually means that she is latched on and, without disturbing her and potentially risking both of our rest, I literally can't get up.  Even when she is not physically nursing, my two-year-old sleeps nestled close to me and both my husband and I are hesitant to move too much lest we accidentally stir her, or worse, with the absence of our bodies to shield her, she rolls out of the bed.
One needs to be incredibly cautious in reading current contexts back two-thousand years, but still, I can't help but feel for the man in bed when his friend comes knocking at midnight.  Before children I might have thought of him as callous—selfish and self-centered, unwilling to help a friend in need.  Now I see the conundrum.  The friend may want to help, he may even be wide awake lying in bed wishing for something to break the nightly monotony of serving as a human barrier / teddy bear for his children.  Or more likely in the first-century context, he might be lying awake wishing he could go to his friend, exercise appropriate hospitality, and break the monotony of being scrunched in a too tight space serving as a source of heat.  Of course it is also possible that he really didn't want to help.  Either way, he was stuck: on one hand, proper hospitality (more than a virtue in a pastoral society – literally the difference between life and death) begged for him to answer his friend; on the other hand, parental responsibility (again, the difference between life and death) implored him to stay.
It is easy to breeze by the scenario that Jesus presents and assume that as followers of Jesus we can proverbially have our cake and eat it too.  Unfortunately, the reality of life both in the first century and today is that following Jesus requires sacrifice.  It requires a reordering of priorities.  It requires difficult decisions.  And, as a result, it requires risk.  Of course there is no guarantee that either the child or the friend of the man in bed will be irreparably harmed by the presence or absence of the man's actions.  But it is also possible that his actions, small as they may seem, will make a difference.
This past week, the United Nations experienced just such an example of a seemingly small—and yet, incredibly big—action that personifies the kind of persistence that Jesus is aiming at throughout the gospel today.
On Friday, sixteen-year-old Malala Yousafzai stood before the United Nations in New York and demanded that the world hear her cry for education—a right she claims not just for herself, but for the 57 million other children around the world who are not attending any school.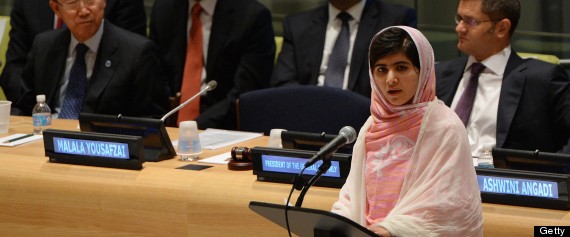 In October 2012 Malala was shot in the head by the Taliban for speaking out about her right to education.  On Friday, her birthday, the UN declared "Malala Day" and in a show of commitment invited Malala and youth representatives from around the world to speak for their cause.
In answer to Malala's persistent cry, our world leaders have answered the door.  Now the question is, how will we respond?  Will we give to our children eggs or scorpions?
It seems like a no-brainer—a ridiculously easy decision.  For God, there is no question – our heavenly Father promises to provide for us in every good way.  But for us who follow in the footsteps of our savior, it is not so simple – we live in the eschatological now and not yet.  We hear Jesus' cry for Justice, God's promise to love and care for every single child of God, and yet we remain in bed – stuck between the needs of our own families and the needs of the world.  How will we respond?  How can we respond?
The answers are not simple or clear-cut, but the charge and the promise is the same:
"How much more will the heavenly Father give the Holy Spirit to those who ask him!" (Luke 11:13)
The Rev. Amy Lindeman Allen is an ordained minister in the Evangelical Lutheran Church in America and a fellow in theology and practice at Vanderbilt University in the area of New Testament and early Christianity. She and her family reside in Franklin, Tennessee where they attend the Lutheran Church of St. Andrew.
[This post is part of our series on the politics of scripture, which focuses on weekly preaching texts. We also welcome commentary on sacred, classic, and profane literature, film, and artistic expression. Submissions may be sent to 40bicycles@gmail.com.]