Then Jesus said to the crowds and to his disciples, 2 'The scribes and the Pharisees sit on Moses' seat; 3 therefore, do whatever they teach you and follow it; but do not do as they do, for they do not practise what they teach. 4 They tie up heavy burdens, hard to bear, and lay them on the shoulders of others; but they themselves are unwilling to lift a finger to move them. 5 They do all their deeds to be seen by others; for they make their phylacteries broad and their fringes long. 6 They love to have the place of honour at banquets and the best seats in the synagogues, 7 and to be greeted with respect in the market-places, and to have people call them rabbi. 8 But you are not to be called rabbi, for you have one teacher, and you are all students. 9 And call no one your father on earth, for you have one Father—the one in heaven. 10 Nor are you to be called instructors, for you have one instructor, the Messiah. 11 The greatest among you will be your servant. 12 All who exalt themselves will be humbled, and all who humble themselves will be exalted.
In 2003 Dacher Keltner, Deborah Gruenfeld, and Cameron Anderson shared the results of unpublished study done by two psychologists (Keltner was one of the researchers) in what has been dubbed "the cookie experiment."
The experiment was about power and about how power affects entitlement.
In the cookie experiment three same-sex participants were asked to discuss various political issues and make policy recommendations. One of the three participants was given the role of "judge" and asked to assign points rating the quality of the recommendations made by the other two participants. This placed the judge in a "high power" position relative to the other two.
About thirty minutes into the discussion the experimenter brought the three participants five cookies on a plate. And the number of cookies was carefully chosen.
Five cookies. Three people.
Someone isn't getting a second cookie. Who would that be?
What the researchers observed was that the person in the high-power position was significantly more likely to take a second cookie compared to the other two participants. In addition, the person in the high-power position was more likely to eat with their mouth open and to leave more crumbs on the table.
Power affects us. Power tempts us to take more cookies for ourselves. And power tempts us to leave messes for others to clean up.
In the lectionary reading from Matthew Jesus says:
All who exalt themselves will be humbled, and all who humble themselves will be exalted.
As a psychologist I'm not well versed in political science or political theology. But I am keenly aware, in light of findings like the cookie experiment, of how power adversely affects us. This is worrisome given how we are often embedded in various political, institutional, economic, organizational, and bureaucratic structures where power is distributed in a hierarchical fashion.
So we can appreciate the imperative in Jesus's call to eschew status and power to humble ourselves and become a servant. And yet, it is hard if not impossible to wholly extract ourselves from the power structures we live with and work within.
Of course, here we could interject a comment about "servant leadership." And we could also note how the exercise of power can be an act of service (Andy Crouch's recent book Playing God: Redeeming the Gift of Power is helpful on this point).
But my particular worry here is with the spiritually corrosive nature of power. Because I expect that the scribes, Pharisees and teachers of the Law viewed themselves as "servant leaders." And I expect that they saw the various political, social and religious institutions they led as organizations that served the people.
And yet, as Jesus points out, something had gone wrong. Something about being in "high places" was having a corrosive effect.
We are left with the question, if we can't wholly extract ourselves from hierarchical power arrangements, how might we resist the allure of power, the desire to exalt ourselves?
I don't have any great answers here, but I would like to share one example of something I think might be helpful in this regard.
Specifically, I wonder if we might think less about ourselves and focus more on using whatever power we have in any given organization to do what Jesus suggests: to exalt, lift up and elevate the humblest servants.
In every organization there are those who are already serving at the lowest levels of the power hierarchy, those already working in overlooked and ignoble roles. These people are often unseen, existing only in the shadows. Consequently, making unseen people visible within the power hierarchy can be a way to exalt and lift up the humble.
For example, I am a Department Chair in an American University. So I possess a degree of power within my organization. And when I survey the power hierarchy of my institution I can note and bring attention to those at the very bottom.
For example, I can exalt the Hispanic women who clean our bathrooms at night.
Our students never see these women. They are low-wage night-shift workers, working for a cleaning company contracting with the school. Many hours after my faculty and students leave the building these women come in and clean during the evening. They vacuum. They take out our trash. They clean our toilets.
And in the morning we return to our building to find it all shiny and clean. As if it were done by magic elves.
The hierarchy is invisible to us. We don't see the women who clean. They are nameless. Faceless. Like so many others in the world who are serving at the bottom of the power hierarchies.
To be sure, there is a conversation to be had here about economics and justice. But before my students can get to that conversation they have to care. And before they can care they have to see.
So at Christmas we contact the supervisor of the cleaning company to get the name of the woman who has been cleaning our building at night. We then share her name in our classes, taking up a collection for a Christmas present to say Thank You.
Here is my hope in all this. After graduation, wherever my students find themselves, I'd like for them to exalt the humble, to lift up the servants. But to do this they have to train themselves to see the humble and to see the servants. Because they are awfully hard to spot, these unseen people.
My hope is that such training causes my students, in some future bathroom in their workplace, to be interrupted by the thought: "Someone cleans this toilet. Should I not know his or her name?".
That interruption is my hope.
Because such questions make the invisible visible. Such questions begin to exalt the humble. Such questions begin to lift up the servants.
And such questions, I hope, begin to give us pause when we want to take another cookie.
---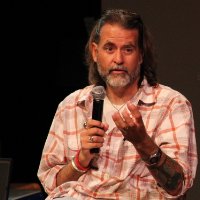 Richard Beck is Professor and Department Chair of Psychology at Abilene Christian University, as well as author and blogger at Experimental Theology. Richard's area of interest—be it research, writing, or blogging—is on the interface of Christian theology and psychology, with a particular focus on how existential issues affect Christian belief and practice. Richard's published research covers topics as diverse as the psychology of profanity to why Christian bookstore art is so bad.